10 May 2016

FM World UK 10th Anniversary Cruise, 'Queen Elizabeth' 2016
This year we are proudly celebrating the FM WORLD UK 10th Anniversary! We have had ten years of sincere referrals, and repeat customers!

10 years on the market is certainly a milestone worth celebrating the success of the FM World Business Opportunity in the UK in style! FM World UK Crew – the laureates of our special 10th Anniversary Incentive Programme, announced back in January 2015, stepped back into the glamorous heyday of cruising on board the luxury ocean liner 'Queen Elizabeth'. On 10th May we embarked in Southampton for our 4 day cruise to Hamburg.

The 'Queen Elizabeth' is a magnificent ship - modern and spacious, and has everything you'd wish for on board - the Garden Lounge, the Royal Spa, heated pools, games deck, the Royal Arcade, pubs and clubs. Treating ourselves to an evening of entertainment with live music around the ship and spectacular shows in the beautiful Royal Court Theatre. There were some of us who danced in the stunning ballroom (high ceilings and vast chandeliers) - the Queens Room - to a live orchestra. We could enjoy losing ourselves on board, strolling beside the sea on the Promenade Deck, unwinding on a sun lounger, or even browsing the library with over 6,000 books to choose from.


The culmination of the cruise was the gala dinner in The Verandah Restaurant serving contemporary French cuisine. It was an evening full of touching moments. The FM World UK CEO Anita Sieniuc thanked everyone for their commitment and successful leadership. The Company could not have come this far without the dedicated support and hard work of its Leaders. Wishing to make these moments to remember - everyone received a special edition of our brand new Perfume Line - Pure Collection – designed exclusively on the occasion of our 10th Anniversary.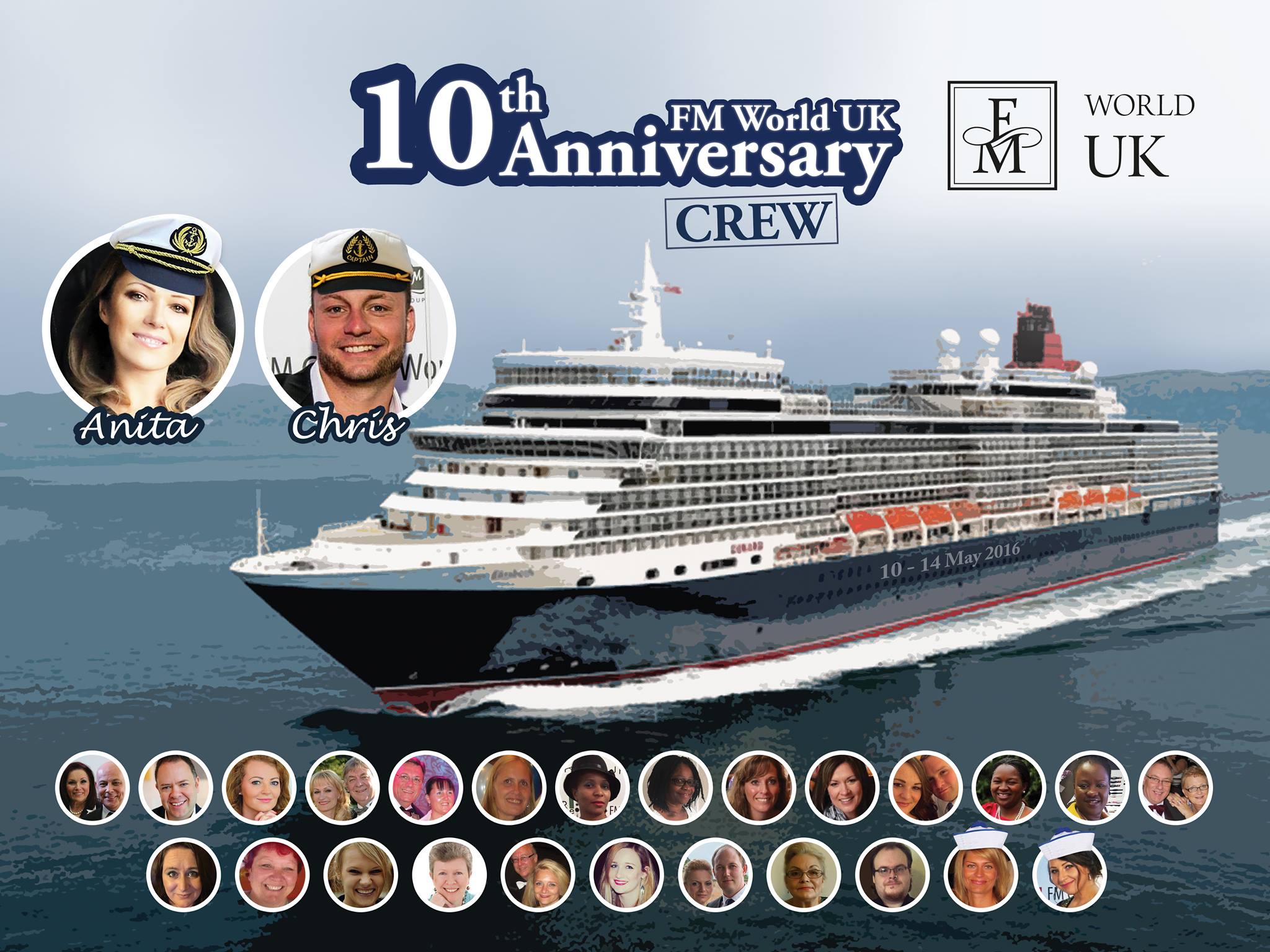 Take a look at some of the footage from this extraordinary event.